Presentations by Group Members
Alex Henderson
BMSS. MALDI and Beyond, Mass Spectrometry Imaging Symposium
University of Sheffield, UK. 9 July 2014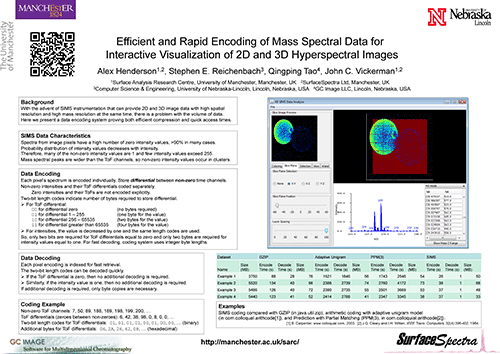 Poster based on…
Efficient encoding and rapid decoding for interactive visualization of large three-dimensional hyperspectral chemical images.
Stephen E. Reichenbach, Alex Henderson, Robert Lindquist, Qingping Tao.
Rapid Commun. Mass Spectrom. 23 (2009) 1229-1233
---
Alex Henderson
UKSAF Workshop on Multivariate Analysis
Nottingham Nanotechnology and Nanoscience Centre,
University of Nottingham, UK. 8 January 2014
---
A multidimensional approach to the study of the lipidome and metabolome of the green algae Chlamydomonas reinhardtii
Jo Denbigh
Poster presented at the SIMS Europe meeting,
Münster, Germany. September 2012.
A multidimensional approach to the study of the lipidome and metabolome of the green algae Chlamydomonas reinhardtii
SIMS Europe 2012 Poster

---
Alex Henderson
Joint IAEA-SPIRIT-Japan Technical Meeting on Development and Utilization of MeV-SIMS
Inter-University Centre, Dubrovnik, Croatia. 21-25 May 2012
This invited presentation covers factors that influence the form of a Static SIMS spectrum and various issues that may arise in its interpretation.
---
Alex Henderson
MassSpectrometry@Manchester Symposium. May 2, 2012
---
Alex Henderson
Presented at the 18th International Conference on Secondary Ion Mass Spectrometry, Riva del Garda, Italy, September 22, 2011