Professor of Physical Chemistry

nick.lockyer @ manchester.ac.uk

tel: +44 (0)161 275 1013

---

PhD on Laser Ionisation Mass Spectrometry of Biomolecules, UMIST, 1996
BSc in Chemistry, UMIST
Special Research Fellowship for the 'Development of a Chemical Microscope' from the Leverhulme Trust.
My research interests focus on the development and application of surface analysis and chemical imaging particularly ToF-SIMS and laser-based mass spectrometry. There are three themes to this research: fundamentals, instrument development and applications research. The Life Sciences provide an exciting field in which to develop new applications, which in turn drive developments in methodology and technology. We are currently seeking to exploit these advances through a variety of collaborations with fellow academics, industrial partners and healthcare professionals.
Research topics: Analytical Chemistry; Instrumentation; Chemical imaging; Ion-solid interactions; Laser-matter interactions; Materials characterisation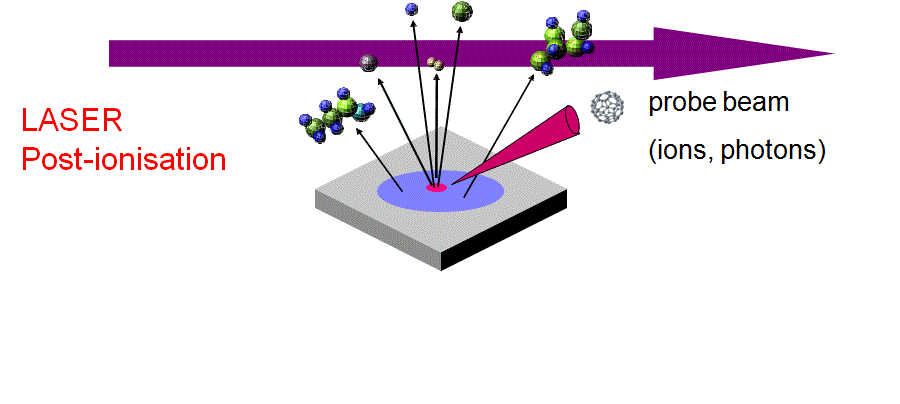 Figure 1. The impact of keV ions or laser photons on a solid surface results in the ejection of ions and neutrals that reflect the detailed surface chemistry of the impact region. Scanning the focused probe beam over the sample leads to chemical images.  The emitted ions can be analysed and detected directly by mass spectrometry e.g. ToF-SIMS.  A complementary approach is to 'post-ionise' the neutrals, for example with an intense laser pulse.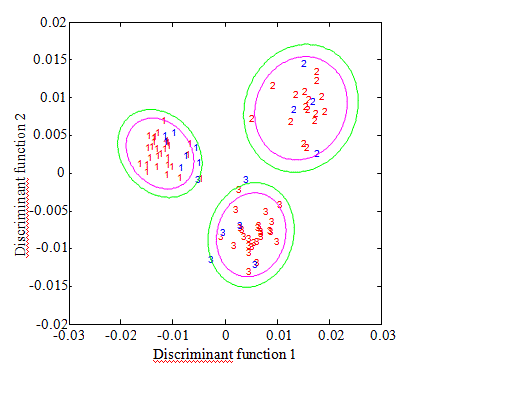 Figure 2.
Classification of cancer cell lines using ToF-SIMS and multivariate analysis. Red is training data, blue is blind-test data. Confidence limits of 95% (outer ellipse) and 99% (inner ellipse) are shown. 1 = PC-3 ( human prostatic adenocarcinoma metastatic to bone); 2 =  LNCaP (human prostatic adenocarcinoma metastatic to lymph node);  3 = PNT2 (adult prostatic epithelial cells). Reproduced from M.J. Baker, E. Gazi, M.D. Brown, N.W. Clarke, J.C. Vickerman
and N.P. Lockyer,
Applied Surface Science 255 (2008) 1084-1087
.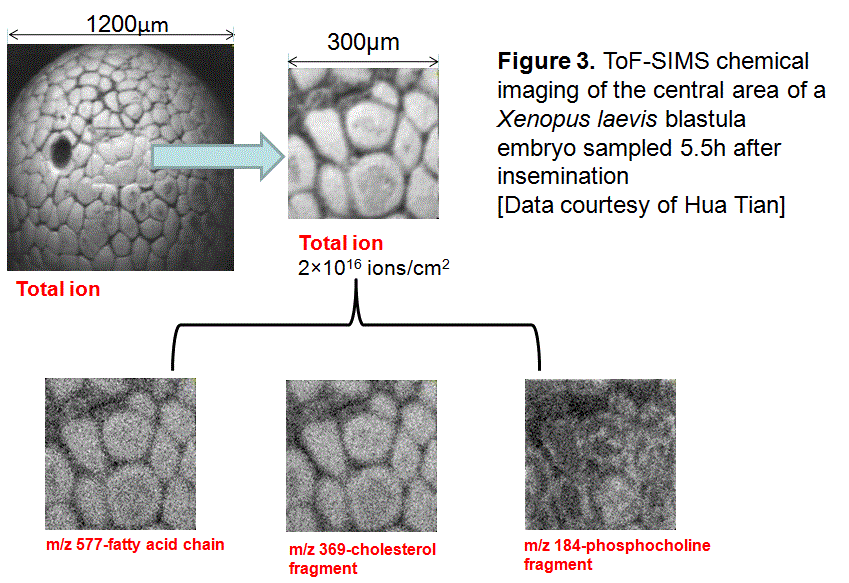 Current Research Projects
Development of ToF-SIMS instrumentation and methodology for 2D and 3D chemical imaging
Collaborators: Ionoptika Ltd (Southampton), Ian Gilmore (National Physical Laboratory), Arnaud Delcorte (

Université catholique de Louvain)

Laser post-ionisation of sputtered neutrals
Collaborators: N. Winograd (Penn State, Dept of Chemistry)
Ambient mass spectrometry in biotechnology and biomedicine 
Collaborators: P. Barran, E. Takano (UoM, Department of Chemistry), Waters Corp.
Development of mass spectrometry imaging for metabolite profiling in single cells
Collaborators: R. Goodacre (University of Liverpool), A. Dickson (UoM Department of Chemical Engineering & Analytical Science)
The application of ToF-SIMS in cancer biology, diagnosis and therapy
Collaborators: K. Williams (UoM School of Pharmacy & Pharmaceutical Sciences); A. McMahon (UoM School of Cancer Studies and Wolfson Molecular Imaging Centre); P. Gardner  (UoM, School of Chemical Engineering & Analytical Science), N. Clarke & M. Brown (UoM School of Cancer and Enabling Sciences & CRUK Paterson Institute for Cancer Research), G. Cruickshank, S. Green, A. Detta (University Hospitals Birmingham)
Recent Funding Sources
EPSRC, BBSRC, CRUK
Books
N.P. Lockyer,  Laser Post-ionisation for Elemental and Molecular Surface Analysis in ToF-SIMS – Surface Analysis by Mass Spectrometry, Second Edition, Eds. J.C. Vickerman and D. Briggs, SurfaceSpectra (Manchester) and IM Publications (Chichester)
N.P. Lockyer "Static Secondary Ion Mass Spectrometry for Biological and Biomedical Research" Methods Mol. Biol. 369 (2007) 543-567
Selected Presentations
INVITED,  New prospects for metabolic profiling and imaging using secondary ion mass spectrometry, Metabomeeting 2012, Manchester, September 2012.
New prospects for post-ionisation mass spectrometry using ultrafast laser pulses, 19th International Mass Spectrometry Conference, Kyoto, Japan, September 2012
INVITED N.P. Lockyer, British Mass Spectrometry Society 2011, Cardiff, UK, Sept. 2011.
KEYNOTE "Developments in biological analysis and imaging using Secondary Ion Mass Spectrometry" Metabolomics 2011, Cairns, Australia, June 2011.
INVITED "3D chemical imaging with cluster SIMS", 20th Ion Beam Analysis conference, Itapema, Brazil , April 2011.